It's no secret that the sports industry relies heavily on the support of its loyal fans. There are countless ways fans can show their support for their favorite sport, team, or even individual athlete. That's where athletic branding comes into play (pun intended!). Athletic branding is a great way for you to help fans make the ultimate connection to their beloved players.
---
Why Add a Laser to your Athletic Branding Business?
Like many other business owners, you are always going to be searching for the next best thing to take your business to a higher level and set yourself apart from the competition. A foolproof way to ensure the success of your business would be the addition of an AP Lazer machine. When it comes to time management and product efficiency, the quality of AP Lazer is unmatched. Soccer cleats, basketball hoops, hockey stick and more. 
You name it – your AP Lazer can engrave it.
Skeptical? Okay, just hear us out! Better yet, read on about Scott Fitchett of MSN Lazer and his experience once he integrated an AP Lazer to his athletic branding business.
MSN Lazer Testimonial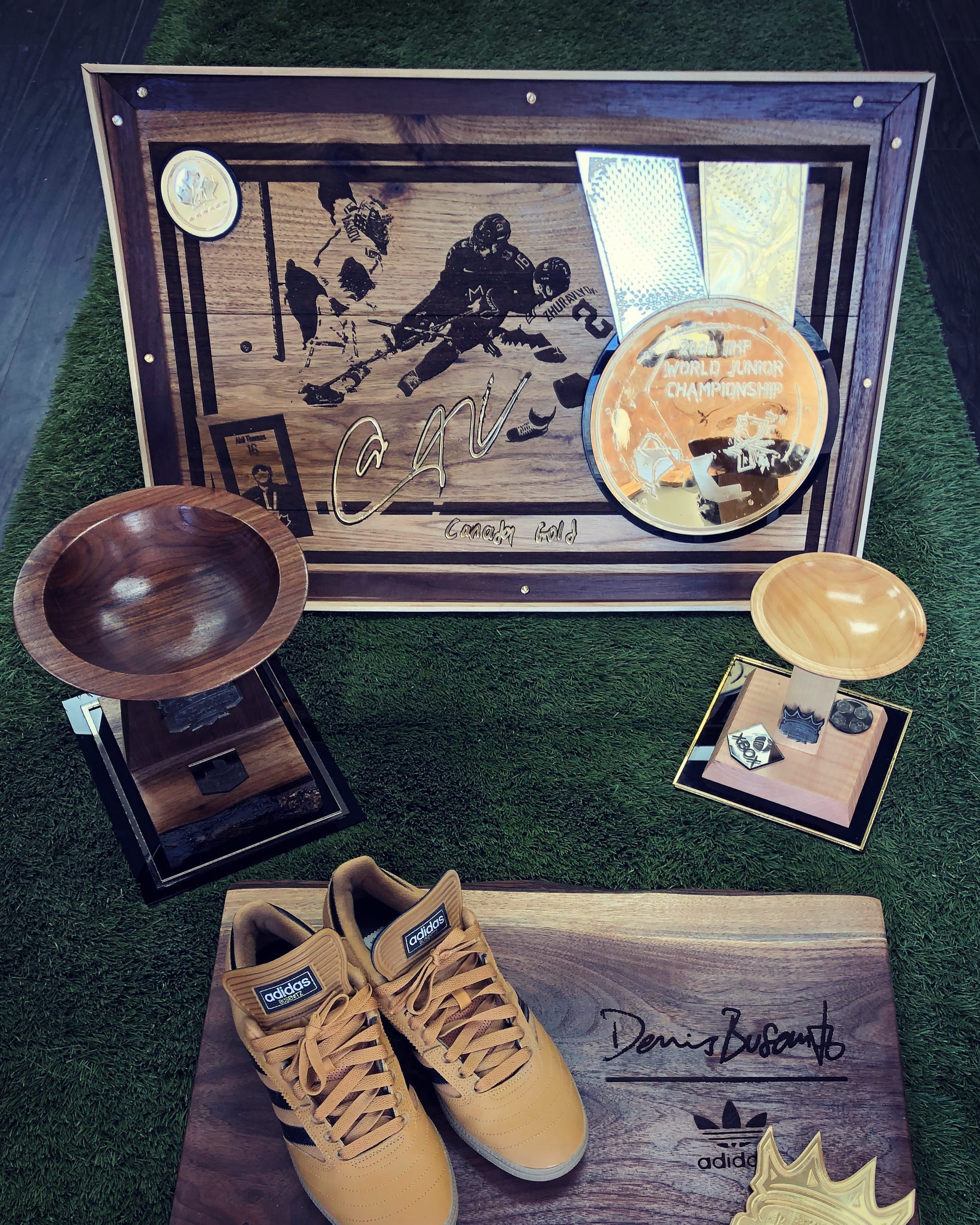 It's a safe bet to assume that an athletic branding business would be nothing without a passion for all things sports, along with substantial knowledge of how to operate a thriving enterprise, of course. With the help of his AP Lazer, Scott effectively demonstrates both qualities. While playing sports will always be a big love of his, Scott's passion for laser work and design has created an impressive new outlet within his community, as well as allowed him to collaborate with some pretty big names in Canadian sports, which is always a plus!  
Laser cutting and woodwork are certainly not a new concept to the realm of athletic branding. Neither is reselling used gear and memorabilia, like in Scott's case. The difference is all in the technique of taking those items to the next level and turning them into something truly unique with customization.
 A majority of the merchandise in Scott's inventory has come from either equipment that players have used or have worked with MSN Lazer directly to customize for fans. This adds an element of value that just can't get anywhere else.
Much like the athletes they collaborate with, MSN Lazer holds themselves to a higher standard, working to bring significant value to the products they offer. The focus isn't just on the materials themselves, but how Scott Fitchett and his team of visionaries bring to life a unique component of sports history.
Scott explains, "Like the guys we work with, we are sports lovers and athletes. So, what we have just doesn't come from, you know, some overseas company that might make a massive thing or whatever. It's made by someone creating a better-looking, unique item and sometimes a more collectible item. Someone that is creating a solution to a problem."
Read about Scott's full success story here.
Common Athletic Materials that can be Laser Engraved
A laser is one of the most versatile tools you can add to your line up. A laser can cut and engrave dozens of materials outside of the typical wood and acrylic you're used to working with:
Leather
Stainless*
Woods (pine, cherry, bamboo, cedar, etc.)
Glass
Acrylic (cast or extruded)
Rubber
Coated metals
Aluminum and Anodized Aluminum*
*Can be marked with a metal marking substrate
What Common Athletic Items can I Engrave with a Laser Machine?
Because a laser offers users the ability to cut and engrave such a wide variety of materials, we'll bet you are already thinking about all of the sporting equipment and memorabilia applications that a laser is capable of achieving. Some of the more common laser applications for the athletic branding industry include:

Baseball bats
Baseball gloves
Basketball hoop backboards
Cleats
Lacrosse shafts
Hockey sticks
Hockey pucks
Hockey goalie gloves
Golf clubs
Much more!
Top 5 Advantages of Adding an AP Lazer to Your Line-Up
While the advantages of using a laser machine in your athletic branding business are plenty, we thought we'd break down the top five:
Ability to Engrave High Detailed Work with Precision | The laser's ability to engrave resolutions up to 600 dpi means that you can now offer high-detail, photo-realistic images, as well as steady and clean text on materials like wood, acrylic, and metal. Can your competition do this?


Speed and Efficiency | Laser cutters are known to shave down approximately 50% of cut/engrave time compared to traditional routers. With the ability to set up an array, you can cut and/or engrave multiple items from the same file over and over again with the click of a button. This will give you more time to complete more orders, meaning more money in your pocket!


Open Architecture Design | There are no size restrictions to the items you can cut or engrave. Your AP Lazer can engrave something as small as a hockey puck to as large as a basketball hoop backboard, allowing you to fulfill any customer's product request.   


Consistency | Cut and/or engrave a single same file over and over again and produce the exact same result, every time.


Diversification Opportunities | Combine a market for sports memorabilia and equipment with the consumers' desire for personalized goods, and you're walking into a high-profit opportunity that will provide multiple income streams for your business. Now, that's how you maximize profit.
---
Are you ready to jump into the fanatic world of athletic branding with an AP Lazer? Contact us today to get started!